BE EMOTIONALLY FREE WHEN YOU RELEASE WHAT NO LONGER SERVES YOU
As a holistic health coach, energy healer and life coach I start all my work with clients with the Emotion Code because old trapped emotions and negative mental tapes are the #1 block to having what you truly want from life — vibrant health, truly loving relationships and abundance in all areas of your life.
What I love about the Emotion Code is that the transformation is quick, easy and permanent!
If you've ever judged yourself, felt unworthy, unlovable, depressed or just not "enough", I invite you to a complimentary session to experience this rapid release yourself. We'll release your top 3 trapped emotions and open your Heart Wall to greater EASE & JOY again.
Sessions are using video chat over Zoom which means I am available worldwide, because healing energy has no borders.   Get started here… https://thevitalitycode.com/schedule-now/
WHY RELEASING EMOTIONS IS ESSENTIAL TO YOUR HEALTH, HAPPINESS… AND LIVING A LIFE YOU TRULY LOVE!
Have you ever experienced moments of lower vibrational emotional energies like fear, failure, abandonment, unworthy or betrayal?
Oftentimes these occur in our childhood days when we are too young to understand how to process them properly, and they get trapped in the body.  Have you heard the saying, "Your issues are in your tissues."
These lower vibes over time wear us down, draining our energy, our immune function and may eventually lead to physical pain and to chronic dis-ease conditions of all kinds — even cancer. Trapped emotions might also manifest as depression, anxiety, low self-esteem and self-sabotaging behaviors.
Do you have an area of your life where you feel stuck or have negative patterns showing up time and again? Trapped emotions and limiting beliefs are likely the underlying cause running in your subconscious. If you've ever seen the work of Louise Hay, this is what she was referring to.
Here is an excellent 4-minute trailer from the movie "E-Motion" with ten experts sharing why clearing emotional resonances, traumatic perceptions, anxieties and unprocessed life experiences is key to moving forward toward a life you live fully + love.  You'll recognize some favorite new thought leaders like Dr. Joe Dispenza, Sonia Choquette, Neale Donald Walsh, and the creator of The Emotion Code, Dr. Bradley Nelson  (and others!)
You can find E-Motion on Gaia.tv and on Netflix.
EXPERIENCE QUICK & PERMANENT TRANSFORMATION WITH AN EMOTION CODE WITH ME
The great news is: we can quickly remove the trapped energies with The Emotion Code. What I love about this work is how simple, fast and transformative it is. I feel so passionate about it because I have personally witnessed amazing results from my family, friends, clients and even pets!
Here are some of the wonderful benefits I've seen personally:
Quick relief of physical pain and symptoms of dis-ease
Release of years of emotional baggage and return to joy
Increase in self-esteem and self-confidence, ability to move forward
Release of the heart wall keeping them from truly loving relationships
Creation of greater abundance in finances and all areas of life
Greater joy, creativity, and overall well-being
WHAT IS THE EMOTION CODE?
The Emotion Code™ is a simple and elegant release technique created by Dr. Bradley Nelson.  He spent more than 20 years as a chiropractor helping his clients with complex problems like fibromyalgia, chronic fatigue syndrome, lupus, and even cancer. What he found was that 90% of all the pain we experience is due to trapped emotions, and that these energies block the body from being able to heal itself.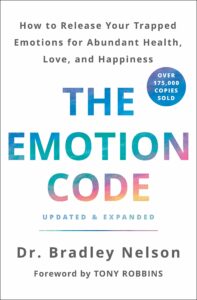 These could be caused by divorce, abuse as a child, difficulties at work, and so much more. When he discovered this simple process, he realized this was the missing link in Western medicine – something no one else was addressing. He began to see quick and lasting transformation in his clients.
He also later discovered the Heart Wall – a barrier that four out of five of us have created to protect our hearts from hurt, betrayal, abandonment and more. Releasing trapped emotions around the heart wall opens us up to greater vulnerability, self-expression, connection, intimacy and true love.
I highly recommend reading Dr. Bradley book "The Emotion Code: How to Release Your Trapped Emotions for Abundant Health, Love, and Happiness".
---
TONY ROBBINS IS A BIG BELIEVER!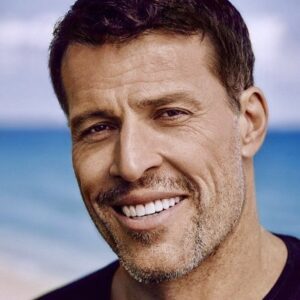 Tony Robbins is such a big fan of this work, he wrote the Foreward to the latest release of "The Emotion Code" Book.
"The beauty of the Emotion Code process is that once a trapped emotion was uncovered, we didn't have to relive anything — we didn't even have to talk about it.  The Emotion Code practitioner simply removed the  emotional "charge" and cleared any energetic blockage.
WILL THE EMOTION CODE HELP YOU?
If you suffer from anxiety or depression.
If you suffer from pain or face a health challenge.
If you have a pet that suffers from separation anxiety.
If you have financial struggles.
If you have experienced a trauma.
If you lack direction or purpose.
If you answered yes to any of these, then let me help…
If you've ever judged yourself, felt unworthy, unlovable, depressed or just not "enough", I invite you to book a session to experience this rapid release yourself.
I once saw a young woman with life-long back pain from recurring car accidents (she was on her third!) reduced from a 9 to a 1 in just one session!
What I love about the Emotion Code is how simple, fast and transformative it is.
"The issues are in the tissues." Release the energetic block from the tissues and you are ready to move beyond it, immediately!
What I love about the Emotion Code is that the transformation is quick, easy and permanent!
LET ME SHOW YOU HOW AN EMOTION CODE SESSION WORKS…
​​Have you heard of kinesthiology or muscle testing?  Essentially it's a way for me to be able to tap into the inherent wisdom of your body, and by simply asking your body what it already knows, we allow it to guide us to what must be released in order for you to free the stuck emotions causing your physical or emotional imbalances., heal and move forward.
Since emotions themselves are a form of energy, the most efficient way to release trapped emotions is with another form of energy such as a magnet. Magnets are one of the most ancient healing modalities on earth and have been used to cure many conditions and ailments. Using the magnet stimulates the electromagnetic energy along your meridiens to message out to your cells, tissue, and auric field helping to reestablish a coherent connection with the rest of the body so that it works more optimally.   It's like rebooting a computer system.
Once a trapped emotion is identified and released, you will begin to feel lighter, less reactive, and happier in any given situation.
READY TO GET STARTED?
I invite you to a complimentary session to experience this rapid release yourself. We'll release your top 3 trapped emotions and open your Heart Wall to greater EASE & JOY again. Sessions are using video chat over Zoom which means I am available worldwide, because healing energy has no borders.   Get started here… https://thevitalitycode.com/schedule-now/