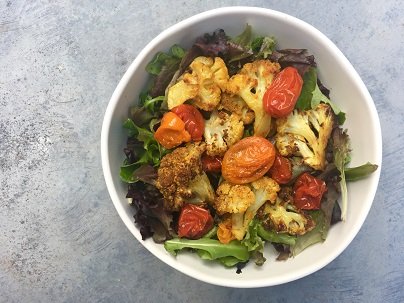 Welcome to what may soon become one of your favorite salads!
I absolutely LOVE curry and just don't think of it often enough.  In this case, I tossed one head of cauliflower in a bit of salt, coconut oil, and the star… curry powder (swoon) and roasted it to perfection. The result is crispy-on-the-edge, tender-in-the-center cauliflower bursting with flavor.  Give it a whirl and let me know how you love it!
Serves 2
1 large head cauliflower, chopped
2 to 3 heaping tablespoons coconut oil, melted
2 teaspoons curry powder
sea salt and black pepper to taste
1 cup cherry tomatoes
4 cups mixed greens
Preheat oven to 400 degrees F.
Place the cauliflower florets into a large mixing bowl. Add the melted coconut oil, curry powder, sea salt, black pepper, and cherry tomatoes. Mix until the cauliflower is well coated. Layer onto a baking sheet. Bake for about 15 minutes. Remove from the oven, flip the florets and bake for an additional 15 minutes. The cauliflower should be brown on the edges. Serve on top of mixed greens and your favorite salad dressing.
Comments are closed.