Happy International Women's Day!
We stand upon the shoulders of giants! There are so many women I'm grateful for each March (well, every month really!)
We truly are in a time of the divine feminine rising, and this past year has seen the contributions of women be recognized more and more — so many 'firsts' for women.
These amazing women have dedicated their work to the empowerment of women everywhere through their amazing activism and fearless commitment to all women.
The best thing you can do to honor their heroic efforts is to find what it is you are passionate about, own your voice and then share it unabashedly with the world!
Women, we are the gift the world needs most now.
I've collected 33 quotes to encourage + uplift you as you honor the amazing woman you are today, and the one to blossom next!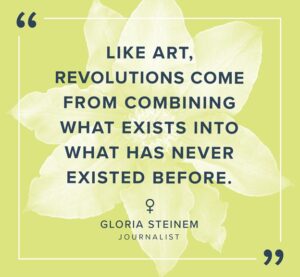 • "Like art, revolutions come from combining what exists into what has never existed before." – Gloria Steinem
• "I raise up my voice—not so I can shout, but so that those without a voice can be heard." – Malala Yousafzai
• "When I dare to be powerful, to use my strength in the service of my vision, then it becomes less and less important whether I am afraid." – Audre Lord
• "What you do makes a difference, and you have to decide what kind of difference you want to make." – Jane Goodall
• "Without leaps of imagination, or dreaming, we lose the excitement of possibilities. Dreaming, after all, is a form of planning." – Gloria Steinem
• There is always light, if only we're brane enough to see it. If only we're brave enough to be it. – Amanda Gorman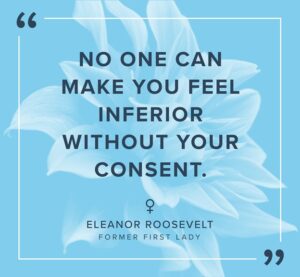 • "No one can make you feel inferior without your consent." – Eleanor Roosevelt
• No one is too small to make a difference. Everyone can do something. If everyone did something then huge differences can be made.
• "I never dreamed about success. I worked for it."- Estée Lauder
• "Fearlessness is like a muscle. I know from my own life that the more I exercise it the more natural it becomes to not let my fears run me." – Arianna Huffington
• "I always did something I was a little not ready to do. I think that's how you grow. When there's that moment of 'Wow, I'm not really sure I can do this,' and you push through those moments, that's when you have a breakthrough." – Marissa Mayer
• The most courageous act is still to think for yourself. Aloud." – Coco Chanel
• I figure if a girl wants to be a legend, she should just go ahead and be one. — Calamity Jane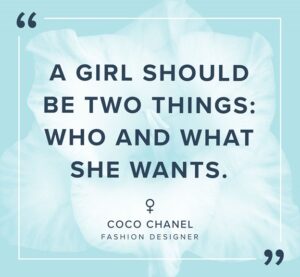 • "A girl should be two things: who and what she wants." – Coco Chanel
• You've always had the power my dear, you just had to discover it for yourself. – Glinda the Good Witch
• "No one ever became a success without taking chances… One must be able to recognize the moment and seize it without delay." – Estée Lauder
• "Find something you're passionate about and keep tremendously interested in it." – Julia Child
• "Fight for the things that you care about, but do it in a way that will lead others to join you." – Ruth Bader Ginsburg
• "If you're one of those people who has that little voice in the back of her mind saying, 'Maybe I could do [fill in the blank],' don't tell it to be quiet. Give it a little room to grow, and try to find an environment it can grow in." – Reese Witherspoon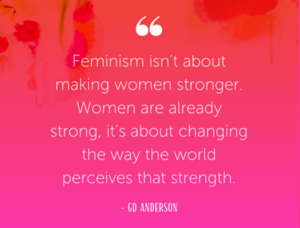 • Feminism isn't about making women stronger. Women are already strong; it's about changing the way the world perceives that strength. – GD Anderson
• "I've interviewed and portrayed people who've withstood some of the ugliest things life can throw at you, but the one quality all of them seem to share is an ability to maintain hope for a brighter morning, even during our darkest nights." – Oprah Winfrey
• "I found that ultimately if you truly pour your heart into what you believe in — even if it makes you vulnerable — amazing things can and will happen." – Emma Watson
• "The thing women have yet to learn is nobody gives you power. You just take it." – Roseanne Barr
• "In life there is no real safety except for self-belief." – Madonna
• "There's something so special about a woman who rise in a man's world. It takes a certain grace, strength, intelligence, fearlessness, and the nerve to never take no for an answer." – Rihanna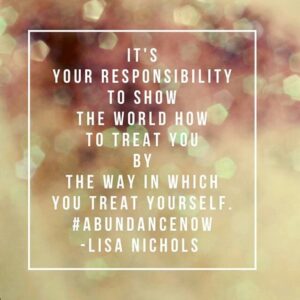 • It's your responsibility to show the world how to treat you by the way in which you treat yourself. – Lisa Nichols
• "I have learned that as long as I hold fast to my beliefs and values – and follow my own moral compass – then the only expectations I need to live up to are my own." – Michelle Obama
• "No one can make you feel inferior without your consent." – Eleanor Roosevelt
• "Think like a queen. A queen is not afraid to fail. Failure is another stepping stone to greatness." – Oprah Winfrey
• "Stand up straight and realize who you are. That you tower over your circumstances. You are a child of God. Stand up straight."Maya Angelou
• "Authenticity embraces whole-hearted living and loving. Even if we are struggling with the shame and fear of not being good enough and especially when the joy is so intense that we are afraid to feel it." — Brene Brown
• "We are all of us stars, and we deserve to twinkle." – Marilyn Monroe
• "Just because you are blind, and unable to see my beauty doesn't mean it does not exist." – Margaret Cho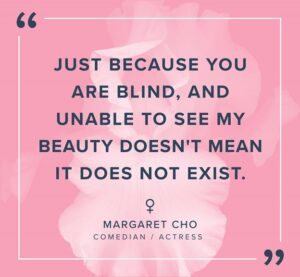 I'd love to know your favorite! Do you have others you'd like to share? Add in the comments below!
For the deep dive on finding your voice and stepping into your power when you align with your soul, you'll want to get on the list to be the first to know when the next session launches for La Femme Salon: 10 Weeks to Find Your Fire, Freedom & Fulfillment  >> click here
Comments are closed.