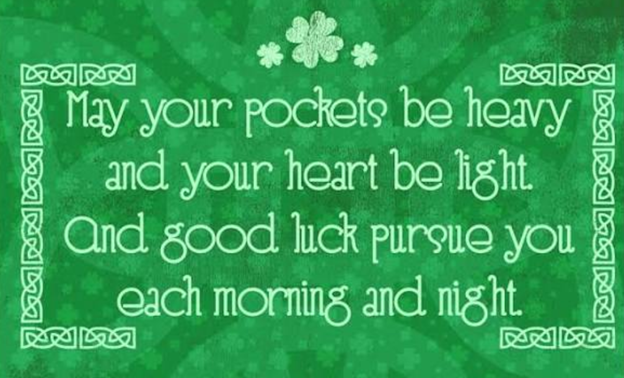 Happy St. Patrick's Day, Kathy! Luck of the Irish to You!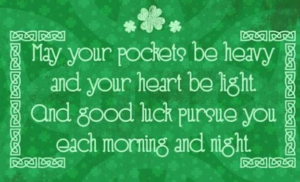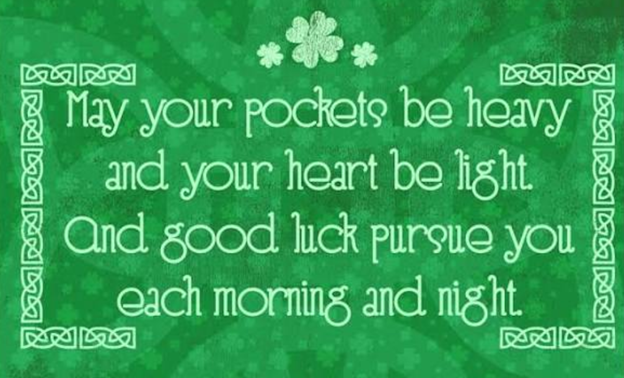 It's a funny saying that…
And it got me thinking about how lucky I consider myself to be and a book by Gay Hendricks entitled "Conscious Luck — Eight Secrets to Intentionally Change Your Fortune." In it he reveals eight secrets he's found about being lucky.
How would you like to consciously invite more luck into your life?
Let me touch on each one of the eight secrets and provide you with an affirmation that you can begin to use today to increase your level of luck.
Eight Secrets to Intentionally Change Your Fortune
Secret #1 — Commit to being a VLP — (a Very Lucky Person!) Have you ever noticed how some people seem to have all the luck? Have you concluded that Lady Luck isn't smiling on you? Gay suggests luck is not something that just favors others, it favors those who believe and have a deep belief that they will be lucky. Make a choice to be more intentional about the luck you've had up until now and are attracting next. This simple commitment to seeing yourself as a lucky person is enough to capture the winds of luck in the future.
Repeat after me: Good luck comes my way every day!
☘️
Secret #2 — Release your personal barriers. It's human nature for us to review and reassess the past so as not to repeat old crash-and-burns that brought us to pain. A natural response is to create protective barriers around our hearts or to lower our expectations so as not to repeat the pain and disappointments. Fear has us contract and not allow the luck or well-being to flow. Gay's second secret is that to become luckier, you've got to break the barriers of the past with a mindset of "That was then, this is now".
Repeat after me: Every day in every way I am getting luckier and luckier!
☘️
Secret #3 — Become a magnet for abundance. This one may sound a little counterintuitive, and it's also the one that Gay says catches most people off guard. He says, the best way to pull more good luck into your life is to transform any shame you have felt in the past into being your good luck magnet.
What? To illustrate he shares his own personal story about discovering the shame in his body as being from when his mother got pregnant with him "inconveniently" and he absorbed the shame she experienced through that pregnancy. Those lower vibing emotions will block luck from coming your way. He invites us to scan your body, invite any resonance of guilt or shame to leave and then replace it with positive self-beliefs that affirm your worthiness and deservingness of good fortune coming to you.
Repeat after me: I am blessed and highly favored!
☘️
Secret #4 — Have luck-worthy goals. Luck has a way of chasing big, juicy goals. If you want to attract more luck into your life or career, go after some big and audacious goals. Gay contagiously proclaims "I am the luckiest man on earth!" giving thanks for being married to his beautiful wife. And he invites us to ask ourselves "If I were the luckiest person on earth, what would I want?"
Repeat after me: With my luck, I can achieve really big things.
☘️
#4 & 5 go hand in hand so I wanted to give a nod to setting those luck-worthy goals and, because you BELIEVE you can have them, #5 is all about how luck follows bold action.
That's a mighty mindful for today. Be on the look-out for Part II tomorrow.  In it I am including a video to wrap this whole notion of consciously becoming a magnet to greater luck + an invitation on something I'm cookin' up if you wanna get lucky!
Comments are closed.